Nias: surfers' heaven of barrels
In Nias, there is always a rainbow. In Nias, there is always a wave. Pro Surfers look for a 6-8ft South Swell at 220 degrees and 18 sec to jump on the first flight and go to catch the barrels of their life. But you can really surf all year round and outside peak season you might be able to score really good waves with just a few locals.
The wave has easy access through the famous keyhole, which allows surfers to reach the lineup hair-dry. Nias is a deep water wave and it's really rare to hit the bottom unless the wave is really big and the wipeout very gnarly. If you get smashed you can easily get back to the channel or head towards the reefy shore. The winds are very rare in North Sumatra and when they are on they are still light, so the wave is always surfable.
The tsunami that hit Indonesia in 2005 and destroyed the village of Sorake has actually determined an improvement in the quality of the wave! Nias now barrels at all tides and all sizes! The tube is almond shaped and represents perfection at its best.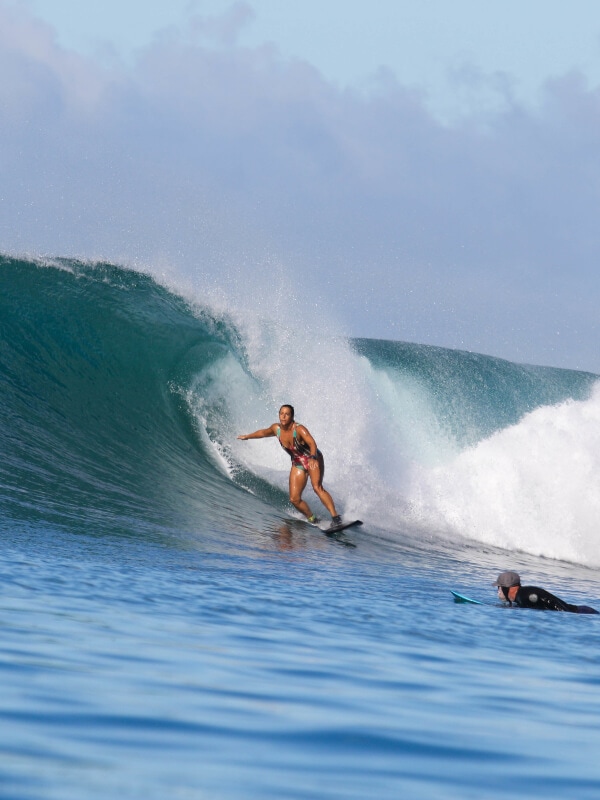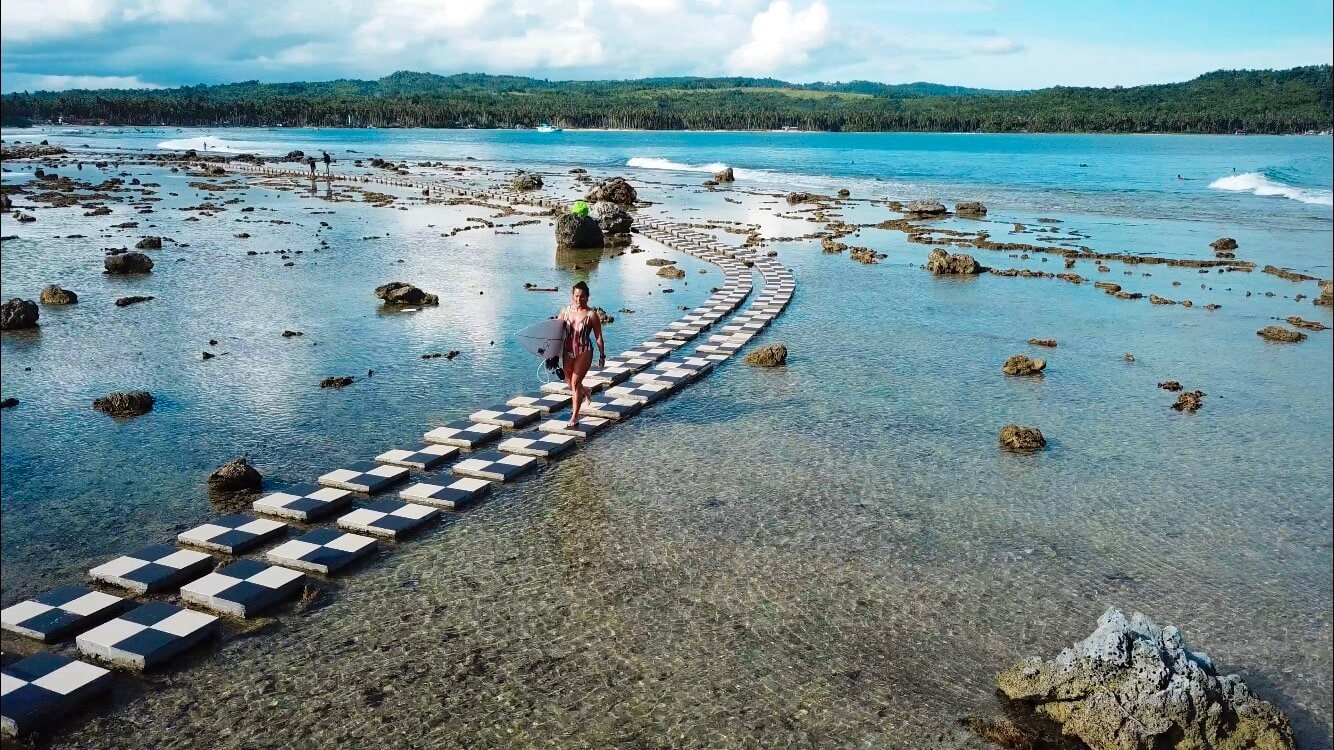 The heads of turtles pop up from the water and the rain showers appear at the horizon. The sunsets are pink and the blue sky seems painted. Not only Nias is one of the best 10 waves in the world, but its tropical palm trees background is also the best set up for surfing photos and unforgettable memories.
In Nias, everybody smiles and the kids rip on their half broken boards. They have not a lot, but their lives are fulfilled with the ocean. The line-up can get crowded but here it's all about share and respect. If you wait your turn everyone will cheer you up and the stoke will be next level!
Handy Tips:
Bring some spare stuff with you. Local boys love to receive some presents like wax, leashes, fins or even an old board. There are no surf shops here and a help to the local surfing community is always greatly appreciated!
Get ready to be surfed out. The wave is just too perfect and you will want to stay in the water all day long. So bring a bunch of sunscreens, Lycra and surf hat for the hottest hours (it would probably still be pumping!), a ding repair kit and some spare equipment!
Get hydrated with the many coconuts kids offer you at the beach!
If you have a bit of adventure other waves can be accessed, but they are still quite far and some of them not so easy to reach.
During your stay take a few lay-hours and head to one of the Ancient Villages of the area. Nias has one of the most ancient Megalithic Cultures on Earth. Stone jumping is a typical tradition for the young boys to prove their manhood and consists of a jump of a 6ft stone.
Purchase a Travel Insurance and bring a first aid kit with you! Sorake is located in a very remote area. There are still medical facilities and a little clinic in the village, but better to be prepared!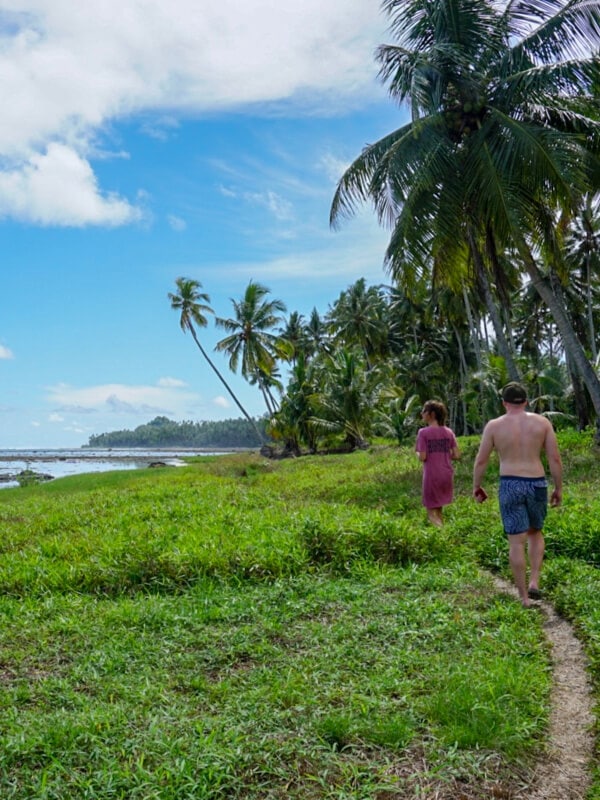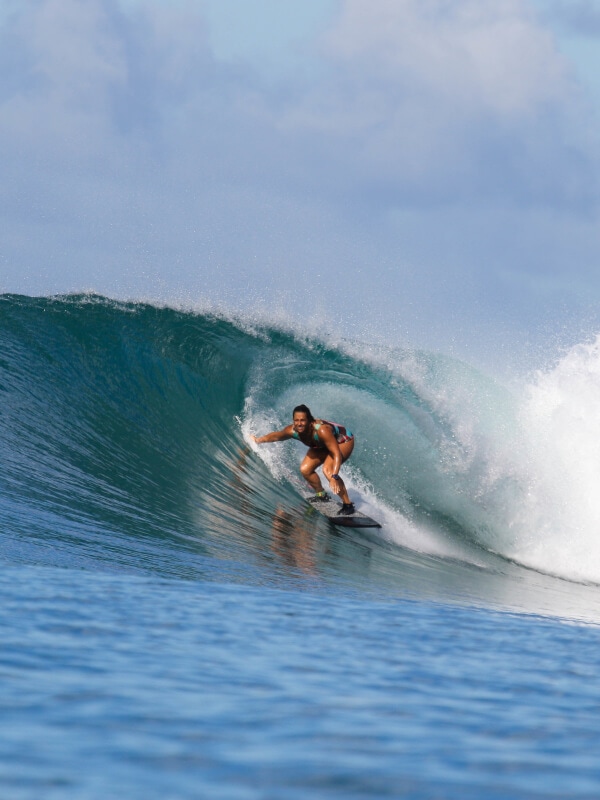 Where to stay?
There are many losmens for all budget in the surfing area! My top pick:
Hash & Family Surf Camp: managed by Hash's daughter and local legend Elvira, this place has the best view on the wave, they offer great service, clean air-con rooms, delicious food and super friendly atmosphere!
Kabunohi Sorake: for a higher end trip opt for this beautiful eco accommodation run by one of the pioneers of Lagundri, Mark Flint. Here you can choose between a shared room or a private bungalow, all coming with exceptional resort services!
Which surfboard to bring?
Honestly, I recommend bringing some extra size boards. Nias is a swell magnet and gets well overhead with just a 3-4ft swell. Having some extra size will definitely help you to get earlier in the wave and aim for that perfect barrel!
Receive Updates & promotions