Layla has been my roomie in Bali. I'll be honest with you, I have never seen anyone eating so much pasta as she does, neither Italians do so. And yes I am pretty jealous that she is still thin and fit, no matters all the carbs.
One day Layla looked at me and asked: "Why don't you have a website?".  And then all started. Nights of planning, discussing, drinking wine, laughing, brainstorming. And so, we gave birth to Sliding Chronicles.
Biographic data
I am an 80's girl! Ripped jeans, hairspray, mixtapes, neon colours, Madonna, and a very young River Phoenix in Stand by Me… it all gives me a warm, fuzzy feeling!
When you are not behind the computer, how do you like to spend your free time?
You can find me either swimming, watching a movie on the big screen, or checking out new countries and places; the best part is I can do more of all this now that I am able to work remotely and being in control of my office hours!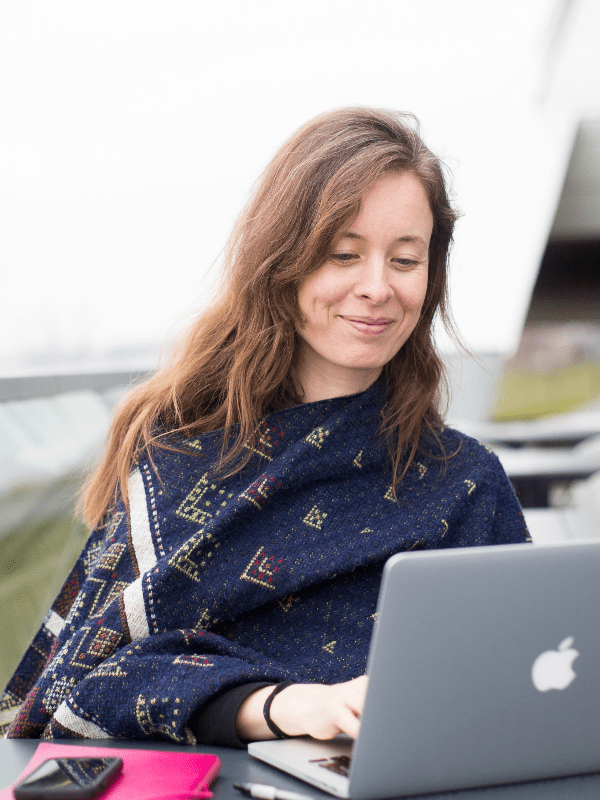 How did you start web designing?
After working for more than a decade in cinema, it was time to explore new horizons. Besides movies, I've always had a big interest in websites. I've had a bit of a geeky boyfriend who studied digital media at my university, and I loved to hear him talk about everything website related; from coding to Search Engine Optimization. I just never thought about doing that kind of work myself. This changed after a ten month trip to South Italy and Portugal where I met friends working remotely; some of them building websites and doing UX/UI. Back home I started thinking about working online myself. Building a personal website made me realise how much I enjoyed this work. Eager to become better at it I took several online courses; I am very much a DIY developer. 
What's your specialisation?
I am a Divi specialist and I create my WordPress websites using this framework. I love Divi because I can fully customise websites with it and my clients love it because it's very intuitive and easy to use; which is handy if you want to update the content of the site yourself.
When I start a new project I always talk with the client about the strategic part of the site and take the time to find out about their business. And I love to help them finding the right visuals; whether it is images, video, or cinemagraphs. It's always great to work with clients who are passionate about what they are doing and who want their site to have a unique touch. 

Why do you eat so much Pasta? (I am sure everyone wants to know that!)
I think I am secretly Italiana or I might have been in a past life. It's just.. so damn tasty! I can eat pasta for breakfast, lunch and dinner; "Aglio e Olio" is my favourite. I especially love to eat it before a long distance swim or a surf session. 
What are your future projects and dreams?
I worked on some great projects for people that I build real connections with. In future I would love to reconnect with the film industry. Helping actors and film distributors with their online presence. Or collaborate with festivals, cinemas, and film students…
Thanks for the awesome job, Layla! All this wouldn't have happened without your inspiration!
If anyone needs a web designer, contact her, she is the best!
Receive Updates & promotions