Join us on an all-inclusive surf trip to the world-renown Lagundry Bay.
7 days of coached surfing, barrels, coconuts & good times!
Improve your surfing skills on the world most perfect waves
The surf holiday you have always dreamt about, in the Indonesian heaven of world-class waves!
From barrels to long playful walls, Nias has something to offer to surfers of all levels!
Improve your surfing skills and step to the next level with daily video coaching held by Giulia, ISA Level 2 Surf Instructor and Founder of Sliding Chronicles. This is a unique chance to work on specific techniques, to learn how to do manoeuvres and to gain confidence in the water day after day. We are going to use land simulations to learn the right movements and then train them in the natural wave-pool of Lagundry.
Survival Apnea teaches surfers how to deal with intense situations in the ocean with more ease. It helps increase performance through the development of self-awareness, self-control and the forging of body and mind resilience. During the trip will go through different breathing and breath-holding exercises to increase our lung capacity and understand the dynamics of hold-downs and what happens in our bodies in that while.
Are you ready to head to Paradise?
Sleep, Eat, SURF and Repeat! And in the meanwhile get the most stunning view over the break!
Born by the legendary local surfer Hash, the losmen of "Hash & Family Surf Camp" has been carried on by his wonderful daughter Elvira, who is the real spirit of the camp and will make your experience unforgettable!
The rooms are clean and cosy, with hot water and aircon! And the view from the terrace is outstanding and with no doubts the best one of the whole bay!
The food is delicious with a great variety of local and western meals, freshly caught fish, veggies options and the best fresh tropical juice!
Rainbows, turtles and pink sunsets are just some of the adds on to this perfect place!
Food, adventures and barrels are all under our all-you-can-handle policy!
Off the coast of Sumatra lies a chain of idyllic magical islands, r
enown worldwide among surfers for having the most perfect waves on Earth. 
Nias, aka Lagundry Bay, aka Sorake, has been ranked one of the 10 best waves worldwide!
The main break of the horseshoe-shaped  Lagundri Bay is a barrelling right-hander breaking over a deep reef. This wave breaks and barrels at all size swells, all tides and all (light) winds!
The access to the line-up from the keyhole is super easy and requires just a short dry-hair paddle!
Nias is not only for advanced hardcore surfers! With small off-season swells, the main peak is accessible also to intermediate surfers and the inside section Kiddies Corner is a fun mellow wave perfect for beginners and low intermediates, longboards and cruisers.
Included
8 nights wave-front accommodation in shared room

3 meals per day

Water, tea, coffee and 2 juices per day
Daily Surf Coaching with selected video analysis sessions
Survival Apnea Course
Transfers from/to Nias Airport
Photo and video package
Local Activities and Excursions
Wifi
Not included
Airfares and airport fees
Visa costs
Travel insurance
Surf equipment
Alcoholic and soft drinks
Tips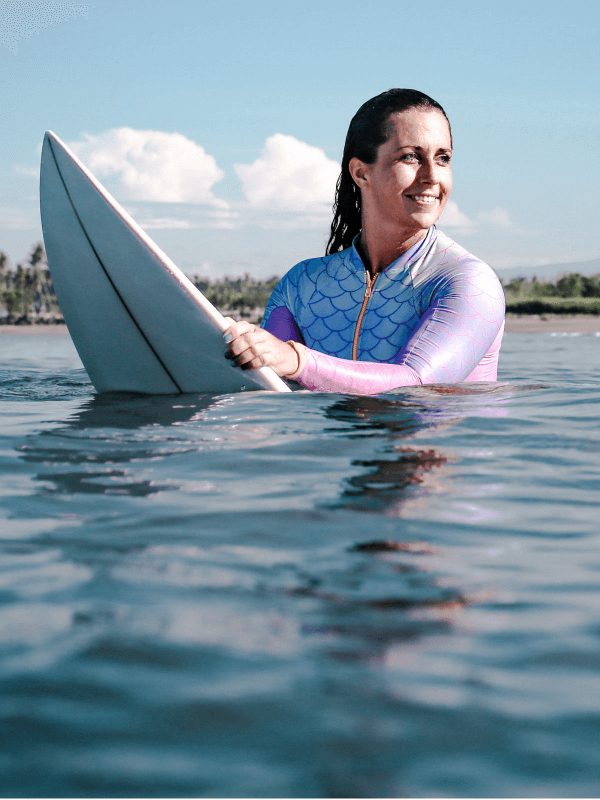 Giulia Manfrini - surf coach
ISA Level 2 Surf Instructor, Surf Survival Apnea Instructor and Founder of Sliding Chronicles.
Giulia is Italian born and Bali based. With 8 years of surf coaching experience around the globe, she will help you to gain self-confidence in the water and to improve your surfing technique fast and safely.
During our daily surf sessions, we will go through every single detail on how to perform effective manoeuvres. You will receive feedback on your surfing using video analysis.
Having been an athlete herself, Giulia understands the different needs of each student. She will make you feel comfortable in the water, even when the conditions involve pushing your limits a bit more.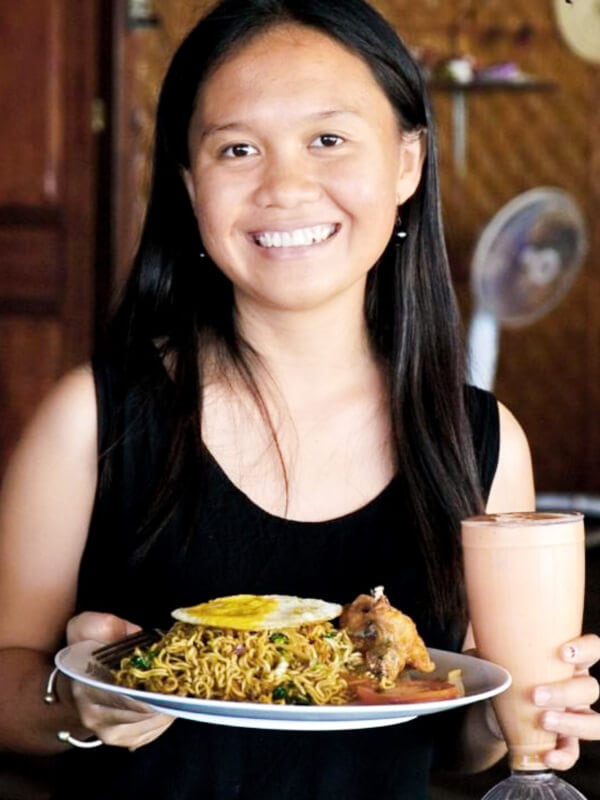 Elvira Wau - Host
Elvira is absolutely the legend of Lagundri. She is pure energy! With her great personality and sense of humour, she will make sure everyone has the best time at the camp!
She understands the needs of surfers and she will well-feed us with the freshest food of the island! She knows all the WSL pro surfers and she always has amazing stories to tell!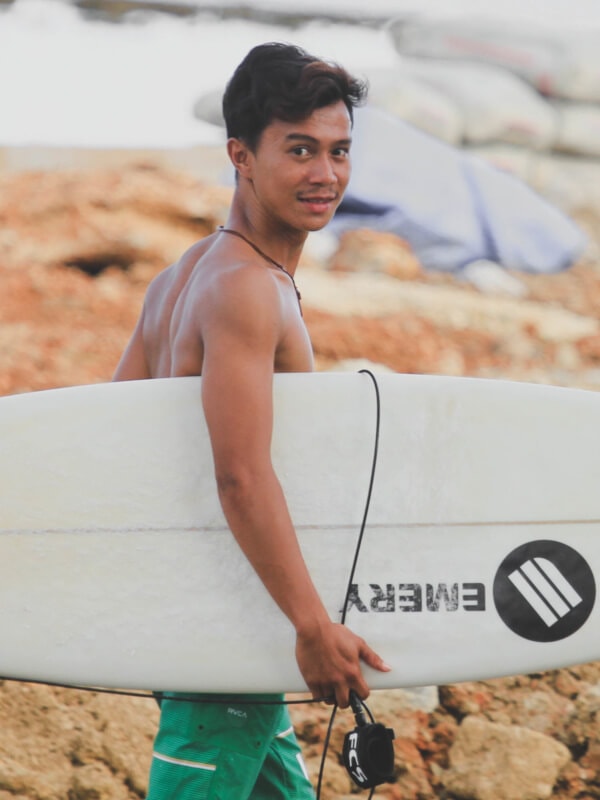 IYAN WAU - photographer
We met Iyan on our first trip to Nias a few years ago. He was very young, but already very professional. He has a great talent with the camera and he is an amazing surfer himself.
Iyan is always on the spot! With his team, they take photos and videos from the boat and from land to get the best shot depending on the light. And they never miss a wave!
With extreme passion, Giulia always encourages me to give the best of myself in the water, to trust myself and push my limits a bit more.
Patience, liveliness, strength and attention are all characteristics that this sport requires, and Giulia transmits them all.
No matter the level of our group, she always looks for the perfect conditions to make the surfing easy and smooth. You can not hope for a better coach!
I did an Apnea Survival course with Giulia and I highly recommend her. The two days course was amazing and I learnt so much.
Within 2hrs I was able to increase holding my breath from 1:05 up to 2:45min!
Giulia is an amazing and calm teacher who gives you the right amount of confidence and support!
I did a training with Giulia and it definitely changed my perspective of water and will have a big impact on my surf. The training she delivered was amazing, in the way she did it, and also to realize what's your body is actually able to do. I'm not afraid anymore to stay under the water and even kind of like it !!! This training worth it and I highly recommend Giulia as a trainer to do it, she is the reason we made it so well, because of her approach. She is perfect! Merci
How many people will take part in the trip?
The trip starts with a minimum of 4 people up to a maximum of 12.
How old should I be to join the trip?
To participate in the trip a minimum age 18 is required. Younger people are welcome but you need to be accompanied by an adult. There are NO ages limits!
Am I a good enough surfer?
Our trip caters for a wide range of ability levels, from low intermediate to advanced. We do require that you can paddle out the back on your own and catch waves, in up to head high surf. You should be able to trim down the line in unbroken waves, without the assistance of a coach in the water.
We accept beginner surfers, however, beginner lessons will be at extra charge.
Why March?
March is one of the best months for intermediate surfers. Waves are not too big and it sees much fewer crowds compared to the peak months!
Do I need to bring my own surfboard?
We recommend bringing a couple of boards. Please keep in mind that we are going to be in a remote area and, even if there is a local ding repair, if your board breaks there would be no possibility of replacement.
Where will we surf?
The surf coaching will be done in Lagundry Bay, ranked one of the 10 best waves in the world. The wave itself has different sections, suitable for different surfing levels depending on the swell size.
When should I arrive?
You are responsible for booking your own flights. You can fly to the international airports of Medan or Jakarta the day before the trip starts, spend one night nearby the airport and take the first domestic flight to Gunungsitoli GNS on the trip's starting day. Please contact us if you need help arranging the flights, accommodation or other sightings before the trip.
Do I need a Visa?
In Indonesia, most nationalities can get a free visa on arrival for 30 days. Your passport needs
to have at least 6 months of validity. Please double-check with the Indonesia embassy of your country about the possibility of visa on arrival and other requirements.
Do I need travel insurance for the trip?
Yes, Travel Insurance is mandatory. We recommend purchasing the World
Nomads Explorer, which is the most complete. Find it
here
Is the Sliding Chronicles team on site to assist me?
Yes, the Sliding Chronicles team would be with you and offers a 24/7 assistance.
What if I have special dietary requirements?
Please let us know at the time of booking and we will organise to cater any dietary requirement/allergy.
Do we get any phone reception on the island?
Of course! We are going to have a phone signal and free Wifi at the camp as well. We recommend you get a local Telkomsel SIM Card. Usually, they get sold at international airports as soon as you walk out from arrivals. It should cost you around US$10 for a SIM card loaded with enough phone credit & data for the whole trip.