Join us on an epic surf & yoga trip to the Island of Gods
6 days of coached surfing, yoga for surfers, coconuts and adventures!
Improve your surfing skills while discovering the wonderful culture of Bali! 
Get lost in one of the beautiful still pristine black beaches of North Bali while sliding on the perfect waves of the world most famous surfing destination!
Improve your surfing skills and step to the next level with daily surf coaching held by Giulia, ISA Level 2 Surf Instructor, assisted by other local instructors. This is a unique chance to work on specific techniques, to gain confidence in the water, to perfection your flow on the waves and to learn how to do manoeuvres, through specific exercises and land simulations.
Daily yoga sessions specifically designed for surfers and tailored to the group's needs. You will acquire balance, release all tensions, and consequently enhance surf performance. We will breathe through our weaknesses and fears and we will learn how to overcome them in an empowerment journey!
Are you ready to head to Paradise?
Let's get away from the hassle of the busy and famous Bali's surf spots and head to Medewi.
Located on the North West side of the Island of Gods, Medewi counts of pristine black beaches and here the waves are less crowded compared to the neighbour Canggu and Uluwatu.
The most famous break of this area is a gorgeous left-hander point-break that rolls for hundreds of meters over a cobblestone bottom. Suitable for beginner to advanced surfers alike, the left point holds pretty much all swell sizes, it's usually mellow with super fun and workable walls!
There are other fantastic breaks in the area, all reachable walking distance or with a short scooter ride. Perfect A-frame barrels, long right-hand points, fun beach breaks and more!
Stay comfortably local and enjoy your Surf and Yoga Adventure in the "off the beaten track" side of Bali!
Perfectly located steps away from the best waves of the area, the Medewi Beach Inn is a lovely place where to take a break from the tropical sun and enjoy your surfing holidays!
The swimming pool area surrounded by lush vegetation is what you need to freshen up after hours of surfing! The rooms are clean and cosy, with hot water and aircon!
During the night we'll gather all together in different restaurants to chat and laugh while tasting the local cuisine and the freshly caught seafood of the area!
Perfect waves, coconuts and adventures are waiting for you!
Included
7 nights beach-side accommodation in a twin/triple shared room

daily breakfast and dinner

daily surf coaching
daily yoga session
transfers from/to Bali Denpasar airport
Photo package
Wifi
Sliding Chronicles team assistance on-site
Not included
Airfares and airport fees
Visa costs
Travel insurance
Surf equipment rental
Lunch
Alcoholic and non-alcoholic drinks
Tips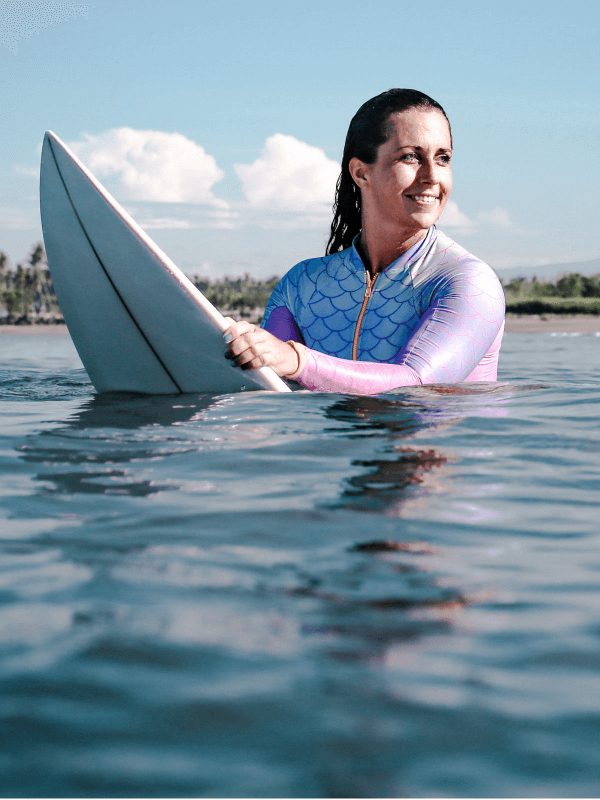 Giulia Manfrini - surf coach
ISA Level 2 Surf Instructor, Surf Survival Apnea Instructor and Founder of Sliding Chronicles.
Giulia is Italian born and Bali based. With 8 years of surf coaching experience around the globe, she will help you to gain self-confidence in the water and to improve your surfing technique fast and safely.
During our daily surf sessions, we will go through every single detail on how to perform effective manoeuvres. You will receive feedback on your surfing using video analysis.
Having been an athlete herself, Giulia understands the different needs of each student. She will make you feel comfortable in the water, even when the conditions involve pushing your limits a bit more.
LUANA SANGALLI - YOGA TEACHER
Certified 200 hour Yoga Teacher and Reiki Instructor.
Originally from Italy, Luana has trained in India and practised in Bali, where she's been living for the past 3 years. 
Being a surfer herself, she understands the physical and mental requirements of the surfers and will make you feel at your best! Luana creates Vinyasa Flows and Yin classes combined with Reiki techniques.
Her energetic morning practices prepare you for the surf. They activate the body and set the mind for your best performance. After the surf, we stretch through specific movements and relax with breathing techniques designed for surfers to be at your best again the next day.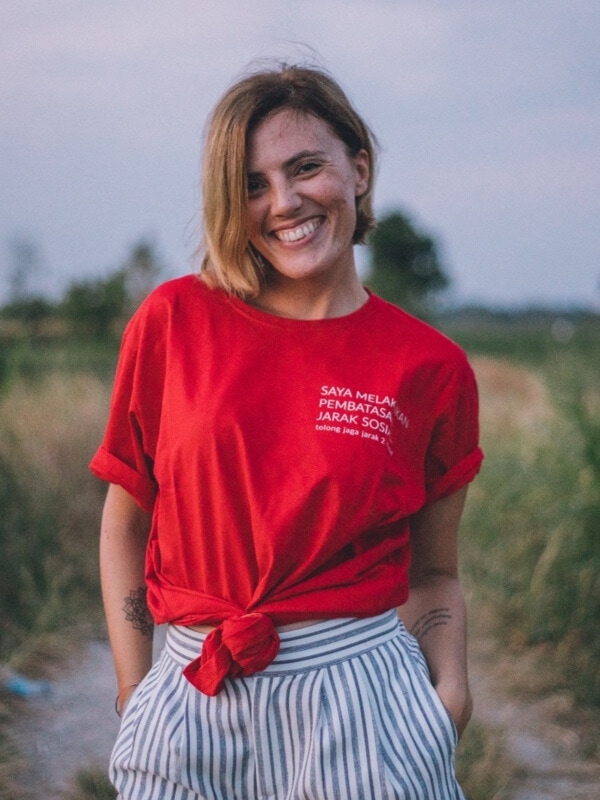 With extreme passion, Giulia always encourages me to give the best of myself in the water, to trust myself and push my limits a bit more.
Patience, liveliness, strength and attention are all characteristics that this sport requires, and Giulia transmits them all.
No matter the level of our group, she always looks for the perfect conditions to make the surfing easy and smooth. You can not hope for a better coach!
I did an Apnea Survival course with Giulia and I highly recommend her. The two days course was amazing and I learnt so much.
Within 2hrs I was able to increase holding my breath from 1:05 up to 2:45min!
Giulia is an amazing and calm teacher who gives you the right amount of confidence and support!
I did a training with Giulia and it definitely changed my perspective of water and will have a big impact on my surf. The training she delivered was amazing, in the way she did it, and also to realize what's your body is actually able to do. I'm not afraid anymore to stay under the water and even kind of like it !!! This training worth it and I highly recommend Giulia as a trainer to do it, she is the reason we made it so well, because of her approach. She is perfect! Merci
How many people will take part in the trip?
The trip runs with a minimum of 4 participants. We take up to a maximum of 12 people.
How old should I be to join the trip?
To participate in the trip a minimum age 18 is required. Younger people are welcome but you need to be accompanied by an adult. There are NO ages limits!
Am I a good enough surfer?
Our trip caters for all ranges of ability levels, from beginner to advanced. For the surf lessons, we will divide the group based on the level with the help of extra instructors when needed.
Why March?
March is a great month to surf in Bali. The winds are ultra-light and the waves are glassy. The waves are not too big and this month sees much fewer crowds compared to the peak months! The rainy season is coming to an end, with just a few rain showers during the night.
Do I need to bring my own surfboard?
We recommend bringing your own boards. The majority of airlines have surfboard bags included in their free baggage allowance. If for any reason you are not able to bring your surfboard along or if you are a beginner surfer and you do not own a surfboard yet we will provide it for you!
Where will we surf?
The surf lessons will be done in the area of Medewi. There is a good variety of waves for all levels, from the famous left-hander point break to a-frame beach breaks and right-hander points. The surf spot will be decided day by day depending on the swell and on the level of the surfers.
When should I arrive/leave?
You are responsible for booking your own flights. You would have to arrive at DPS Bali Denpasar International Airport on the starting day by 3 PM. On the last day, your flight should leave not early than 2 PM.
Please contact us if you need help arranging the flights, accommodation or other sightings before/after the trip.
Do I need a Visa?
In Indonesia, the majority of nationalities can get a free visa on arrival for 30 days. The passport needs to have at least 6 months of validity. Double-check with the Indonesia embassy of your country about the possibility of visa on arrival and other requirements.
Do I need travel insurance for the trip?
Yes, Travel Insurance is highly recommended. We suggest the World Nomads Explorer, which is the most complete. Find it here
What if I have special dietary requirements?
Please let us know at the time of booking and we will organise to cater any dietary requirement/allergy.
Do we get any phone reception?
Of course! We are going to have a phone signal and free Wifi at the camp as well. We recommend you get a local Telkomsel SIM Card. Usually, they get sold at Denpasar international airport as soon as you walk out from arrivals. It should cost you around US$10 for a SIM card loaded with enough phone credit & data for the whole trip.
Is the Sliding Chronicles team on site to assist me?
Yes, the Sliding Chronicles team would be with you and offers a 24/7 assistance.
Do you have another question?
Contact me anytime! Send an email to Giulia: info@slidingchronicles.com or use the
contact form
The beautiful photos on this page have been taken by talented Dane Creighton aka @surfians